Eco Products: SANYO DENKI UPS
The "RoHS Directive", a set of regulations issued in the EU regarding chemical substances used in electrical products and precision machinery, took effect in July 2006.
Amid the trend to switch to environmentally-friendly products, our company is also providing a lineup of ECO products.
We would be happy if they would be of any contribution to the sales expansion of your company.
Sanyo Denki Co.,Ltd. UPS SANUPS Series
Sanyo Denki Co., Ltd. Official Distributor
SANYO DENKI Co., LTD. Fundamental Policies on ECO PRODUCTS
In product development, the designed product is compared with market products and existing products of similar design, and target values are set for reducing the hazardous environmental impact of the product
Environmentally-compatible design is implemented from the design phase
The product is verified as to whether it fulfills certain evaluation criteria in the certification outline for products of environmentally-compatible design
Following the result of 3., each division manager puts forward a certification application; an examination is conducted by the Environmental Management Department (ECO PRODUCTS Development Subcommittee) and the Person Responsible for Overall Environmental Management, and the product is certified as an ECO PRODUCT by the Environmental Committee
SANUPS E11A Series
Hybrid UPS Saves Energy and Achieves High Reliability
If commercial power were completely reliable, there would be no need for backup power. However, since occasional power interruptions and transients are inevitable, a UPS is essential to avoid device problems.
While the UPS must not waste power as long as commercial power is stable, it must be constantly available to provide power instantaneously in the event of a power interruption or transient. The SANUPS E11A is a UPS device that provides unprecedented power savings and high reliability.
Energy conservation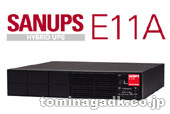 Conversion efficiency has reached 95%.
This represents a 4% improvement over previous products (comparison performed at 1kVA).

The Hybrid type SANUPS E11A automatically selects the most efficient mode of operation for any given power condition.
High quality
Provides full sine wave output.
Output voltage accuracy is within ±2% (DOUBLE CONVERSION mode).
Self battery check feature
The SANUPS E11A automatically performs regular battery tests, and maintains the battery in peak condition for reliable operation during an actual power outage.
Easy power supply management
The UPS Management Software "SANUPS SOFTWARE STANDALONE" is included to enable you to manage power supply from a PC.
You can easily see the UPS status from a PC or server.
SANUPS E23A Series
Low energy, high quality, high reliability parallel processing type UPS
Communication equipment and computers are designed based on the assumption that uninterruptible power is supplied.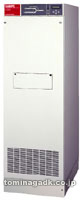 Input: AC200V, 3 phase 3 wire, Output: AC200V, 3 phase 3 wire
Output capacity: 20kVA(16kW), 50kVA(40kW, 100kVA(80kW), 200kVA(160kW)

Saves up to 13% on electricity rates.
・Achieved 97% of power conversion efficiency.
・Contributes to environmental protection.
Saves installation space.
・Achieved smaller size (area reduction of 40% compared to conventional model) and lighter weight (reduction of 50% compared to conventional model).
・When using a long-duration battery, since the optional charger is not necessary, the space required for installation can be reduced by 60%.
Supplies power for any system without voltage sag.
・Even during blackout, instantaneous blackout, or voltage dip, the complete sine wave power is supplied without interruption.
・Eliminates equipment malfunction caused by distortion of the waveform.
・Suppresses harmonic current.

Easy maintenance for cost reduction.
・UPS provides a routine automatic battery check.
・Since the capacitor supplies power when a short power interruption such as an instantaneous blackout, deterioration of the battery can be reduced.

Installation with a small investment.
・Maintenance bypass circuit is included as standard equipment.
・Eliminates the optional charger for long-duration backup.
The design considers the plant facility load.
・Since the overload capacity is high (800%: 0.5 seconds), rush current such as starting motor load can be endured.
SANUPS A11G-Ni Series
Non Toxic Lead-Acid Batteries Online UPS
Maintenance-free for 10 Years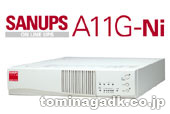 ・First UPS of its class featuring a nickel-hydrogen battery.
・Twice the battery life of the existing model (10-year life expectancy at 25°C).
・Also UPS unit life expectancy of 10 years.

Compact and Lightweight
・50% reduction in volume and 14 kg (31 lbs) reduction in weight compared with the existing model.
(Comparison based on identical backup time.)
Constant, Stable-Quality Power Supply
・The online UPS supplies continuous, high quality power at a constant voltage and frequency.
・Continuous power is supplied even in the event of power interruptions, voltage sags, or transients.
・No device malfunctions due to waveform distortion.

100V model
Output: AC100, 110, 115, 120V, Single-phase, Capacity: 1kVA(0.7kW), 1.5kVA(1.05kW) 200V model
Output: AC200, 220, 230, 240V, Single-phase Capacity: 1kVA(0.8kW), 1.5kVA(1.2kW)
All other products by Sanyo Denki Co., Ltd.
Other than the products mentioned above, we carry all products from SANYO DENKI, including four types of linear servo systems: core, coreless, cylinder, and magnetic attraction offset; sensors such as optical absolute sensors and wire-saving incremental sensors, power conditioners for solar power generation systems, and inverters for converting DC power into stable AC power.
Regarding general-purpose cooling fans in particular, we have the largest stock of both AC and DC fans in the country and respond to requests for fast delivery times.
* Custom products manufactured according to customer (user) specification may not be sold to other customers (users).
The inquiry about the product and the business, please contact us via our
inquiry page
, or please refer by contents at the following.
If you are in a hurry to purchase the product

Fukunaga Dengyou(e-commerce) TEL: 81-3-3251-0445 FAX: 81-3-3251-8523
e-mail:fukunaga@electronicparts.jp

If you want continuous business

Sales department TEL: 81-3-3255-4320 FAX: 81-3-3255-5034
e-mail:sales@tominagadk.co.jp

If you want overseas (China, Taiwan) local direct business