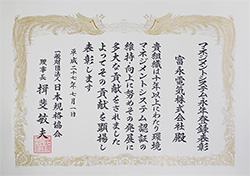 Our company has been recognized for our achievement of maintaining and improving the certification status of our environmental management system for more than ten years and our contribution to its development. The Japan Standards Association has presented us with an award in recognition of our standing as a long-time registered business operator using this management system.
After acquiring ISO 14001 certification in July 2004, for over 10 years we have been pushing forward with maintaining and improving our certification status, and also promoting environmental activities. These efforts were what led us to this award.
We will proactively promote sales of products made with environmental conservation in mind, and we will strive even harder to reduce the environmental impact of our business activities.
Our company has placed global environmental preservation as one of our essential managerial projects and, since November 2003, has engaged in activities aimed at obtaining certification in the environmental management system ISO14001. Today, on July 23rd, 2004, we have finished our certification (registered inspected).
From here on out too, as an electronics trading company, we want to actively advance our environmentally aware handling of electronic parts, devices, and electrical chords, while endeavoring to apply the environmental management system and continually improve our business operations to reduce their effects on the environment.
Thank you very much for your continued patronage.
ISO14001 2004 edition's revised registration
(added on 9/26/2005)
The 2004 version of ISO14001 has revised standards, and was issued on November 15th, 2004 with a renewal date of May 14th, 2006.
This revision expanded what was required of organizations in regards to the environment, and it became necessary to decide how these standard requirements will be fulfilled, and a more active consideration for the environment became required in company activities.
Our company began responding to these new standards without delay, and on September 16th of this year, 2005, earned a revised registration to the new standard ISO14001 2004 edition.
Record
Registration Number

JSAE907 (Incorporated Foundation, Japan Standards Association)

Registrant Name

Tominaga Electric Inc. Main Office

Registrant Location

Japan Tokyo-to, Chiyoda-ku, Sotokanda, 2-11-8 Tominaga Building

Applicable Standard

JIS Q 14001: 2004、ISO 14001: 2004

Registration Date

Registration Date: July 23rd, 2004
Revision Date: June 13th, 2016
Renewal Date: July 23rd, 2016
Expiration Date: September 14th, 2018